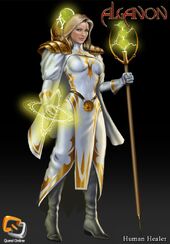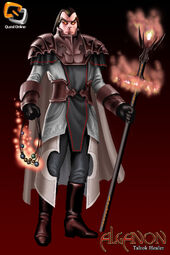 Healers are masters of life. In addition to keeping people alive with the most powerful methods of healing, Healers can dip into the state of Trance to enhance their healing abilities.
Not defenseless by any means, Healers use deadly Words of Power and Touches of Power to smite their enemies. Healers can also use a unique ability called Deathwalk, which turns them into the living dead, able to deliver a monumental amount of damage.
KUKAR


DEN GILLAR KUKAR
DEN GILLAR KUKAR
Deathwalk
Edit
Deathwalk allows the Healer to slip into a state of undeath. In exchange for losing mobility, they gain the ability to deliver incredible amounts of damage.
SPECIALIZATIONS
Edit
The core of a healer's power lies in their control over life, and thus, their ability to heal.
Divination
Edit
A healer specializing in Divination will find himself the masters of fate. This specialization allows the healer to reach additional targets with their Words and provides healing boosts to their Touches, allowing a healer to stop the inevitable harm coming to his allies.
Spirit Mastery
Edit
A healer specializing in Spirit Mastery will find himself the harbingers of death itself. This specialization greatly improves the effect of damaging Words and Touches, and also improves the Deathwalk state by adding benefits and removing penalties.
Channeling
Edit
A healer specializing in Channeling will find himself an unstoppable force. This specialization allows a healer to reinforce his allies further with Words and Touches, making it even more difficult for enemies to mitigate the healing. A channeling healer will also find his Trance state less punitive.